I'm still working out the kinks in my entryway design. I feel very fancy saying that we have an entryway, but in reality, when you open our front door you enter a large room that functions as both the entry and our living room. It's kind of unusual having it all open, given the age of our house and the layout of homes on our street. Anyway, besides the lack of defined space it also lacks storage, as there are no built in closets. So, I feel I had to be pretty creative; picking pieces that serve double duty. Also, the elements in this area had to work perfectly with our living area because of the open flow.
Some things I'm loving...
This little gallery wall is next to the front door and right near the chevron bench. They are all things repurposed from other spots in our home.
Diagonal from the chevron bench is this large armoire that acts as our coat closet.
Chippy black chair, HomeGoods print, Pottery Barn pillow and Pottery Barn Teen rug all create texture in the same color family.
An old jar, attached to the chair with twine, holds flowers and twigs.
The view from our front door.
However, there is one corner, on the other side of the door from the chevron bench, that just doesn't look right to me. I'm considering moving a dresser from our upstairs hallway to fill the space and add extra storage.
But, that'll have to wait a few days, because my husband and I started working on the dining room and sadly, today this is what it looked like.
Consider that your before shot! EEEEK!
Have a great rest of your week!
Linking to: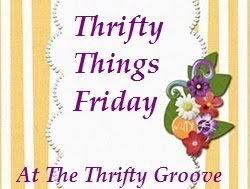 Jennifer Rizzo