I bought this delicate, little demilune table at the thrift store a couple of months ago for just a few dollars. It was sturdy and well made, but most of the finish had been worn away.
Totally nothing that a little bit of paint and accessories can't fix.
I gave it a couple of coats of my favorite white paint, Dove White and painted the monogram and feet with silver paint from Martha Stewart.
After I lightly sanded the table I got to work on the monogram. I simply picked a font and size in Microsoft Word, typed my design and printed it onto card stock. I carefully cut it out and traced it onto my table. I painted it in silver and sealed with wax.
This piece is still growing on me, although my husband and sons loved it immediately. I think I might do a more distressed sanding to add to the rustic/glam feel I had desired.
We had two really nice weather days earlier this week and I just couldn't resist dragging everything outside to photograph it!
Enjoy the rest of your week!
Angela
Linking to: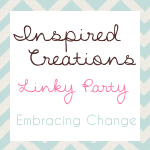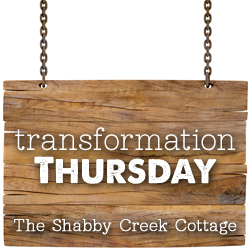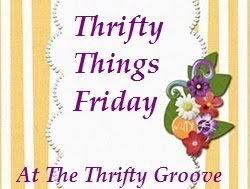 http://www.jenniferrizzo.com/2012/08/its-another-fabulously-creative-friday.html